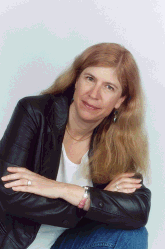 More than fifteen years ago I had an idea for a story. And like most people, kept talking about writing it up as a book. Finally, about three years ago, I decided that I would sit down and see if I actually could write a book. It took me about a year to finish the project and then I let it sit around until my husband and mother finally convinced me to publish it. It took me another year to edit and get it ready to be published. Currently I am about a third of the way through writing a second book, it's a romantic thriller. I hope to have it finished within the next year or two.
Trivia
In this book the characters diet. The specific diet that they are following is a low carb version of Somersizing, created by Suzanne Somers.
I reviewed DVDs for a while. You can find my reviews at DVD Verdict and they are repeated at Rotten Tomatoes as well.
Before I critiqued DVDs, I reviewed PC Adventure Games, but those articles seem to have disappeared from the internet.
Low-Carb Recipes
Mary Ann makes a Garlic Salad Dressing in the book. The recipe for this is:
1 Cup mayonnaise
1 Cup sour cream
2 Tablespoons minced garlic
1 Tablespoon fresh chopped parsley (or 1.5 teaspoon dried)
1 Teaspoon fresh chopped chives (or 1.5 teaspoon dried)
1/2 Teaspoon salt
1/2 Teaspoon pepper
1/2 Teaspoon onion powder
1/2 Cup heavy cream
Place all ingredients in the work bowl of a food processor or stick blender. Pulse until everything is thoroughly mixed. Add more heavy cream, if needed, for desired consistency. Cover and chill for at least two hours before serving.
Mary Ann also makes an Alfredo Sauce using the following recipe. On pages 97 and 98 of "A Walk on the Cliffs" Mary Ann describes how she makes zucchini noodles to go with this sauce. And she uses the sauce in another inventive way to make her appetizer.
1 Stick (1/2 Cup) butter
8 oz. cream cheese
1/2 cup cream
1/2 cup grated parmesan cheese
salt, pepper and garlic powder to taste
Melt the above ingredients together on a low to medium heat. Wisk in the salt, pepper and garlic powder once everything is nearly melted.

More of my favorite low-carb recipes:
Green Bean Casserole
3 Tablespoons butter
1 Teaspoon salt
1 Teaspoon sugar substitute
1/4 Cup onion, diced
1 Cup sour cream
3 (15 ounce) cans of green beans, drained
2 Cups shredded cheddar cheese (I like Colby)
Preheat oven to 350 degrees F. Melt butter on low heat. Remove from heat and stir in salt, sugar substitute, onions and sour cream. Stir in beans. Mix in cheese. Put mixture in casserole dish. (If desired, you can add some more of the cheese to the top.) Bake for 30 minutes.
Artichoke Chicken
4 large boneless chicken breasts
1 can artichoke hearts packed in water
1 Cup mayonnaise
2 Tablespoons sour cream
3/4 Cup parmesan cheese
spices (garlic & pepper)
Pre-heat oven to 350 degrees. Drain and chop artichokes. Add mayonnaise and parmesan cheese. Mix together with the spices added to taste. Put chicken breasts in casserole dish and then cover with mixture. Bake about 1 hour, until done. I usually serve this with a low-carb pasta.
Boursin Eggs
Serves 4-6 people
1 Dozen eggs
2 cups of grated cheese (I use mild cheddar/Colby)
1 package of boursin cheese
(optional - diced green peppers, onions, mushrooms, or anything else you like in your eggs)
Scramble the eggs with a wisk in a bowl. Add in the grated cheese and wisk that into the eggs. If you're using optional items, brown them in a skillet with some butter. Then add the egg and cheese mixture and cook until eggs are cooked to how you desire. Turn off the heat and put the boursin cheese (flaked apart with a fork) on top until it melts slightly. Then serve.
More recipes to come soon....
Credits:
All photos on this website were taken by Nicole LeBlanc, Studio 23, Marlboro, MA. Thanks Nicole!
The banner at the bottom of the Excerpt page was made using the Morning Glory Bundle from JaguarWoman.